Early in 2018 I flew my drone over the beautiful Chocolate Hills in the Philippines.
But my photography expedition began a few months earlier than the trip itself.
And here's why.
By planning well in advance you can improve your drone photography markedly by location scouting.
I'm going to show you how to improve your photography by using a few simple and freely available tools everyone has access to.
So you know where you're travelling. You've never been there before and you want to optimise your photography time effectively. How do find the best photography spots?
Start by using Google Search.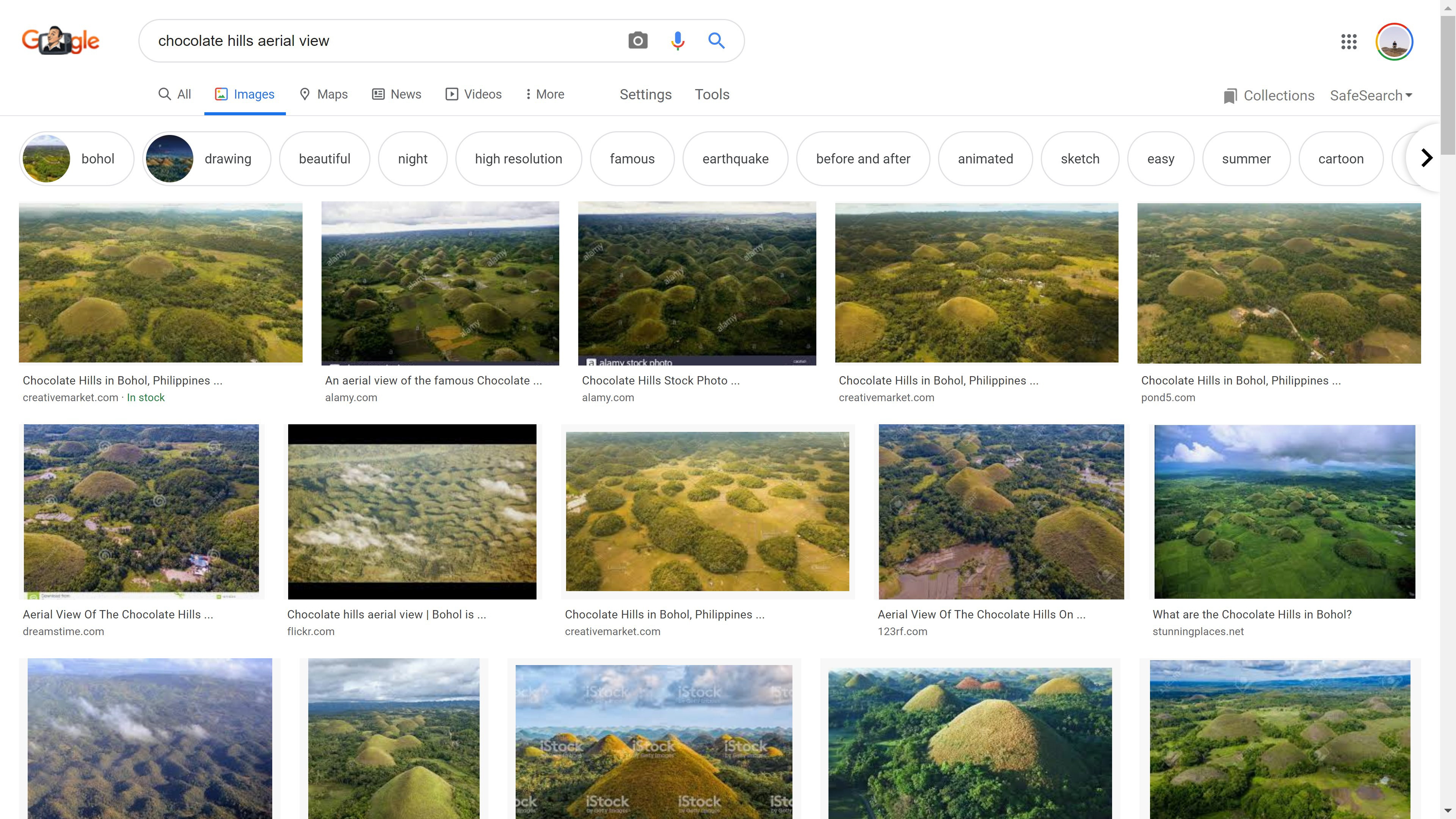 In this example I'm going to use my trip in early 2018 to the island of Bohol in the Philippines. I did a basic search on the area and found that the main feature of the island was the Chocolate Hills. I ran a basic Google Image Search of "Chocolate Hills Aerial" and found several examples.
The initial idea is to not get amazing quality photos but to get an idea what the area looks like and if possible the look of the area under different lighting conditions.
Next and most importantly... 

​​​​​​​
Find out if you're allowed to fly over a location
Drone photography unfortunately is a relatively new type of photography and as with most new things it's met with scrutiny and backlash by the public and government alike. To explore if we are allowed to fly over an area I usually use
AirMap
. It's free to use and has most countries in their database for if you can fly or not. Also a quick Google Search helps to find specific laws pertaining to an area.
For the Chocolate Hills I also found that you are allowed to fly but only before 8am which worked out because we intended to arrive at sunrise anyway.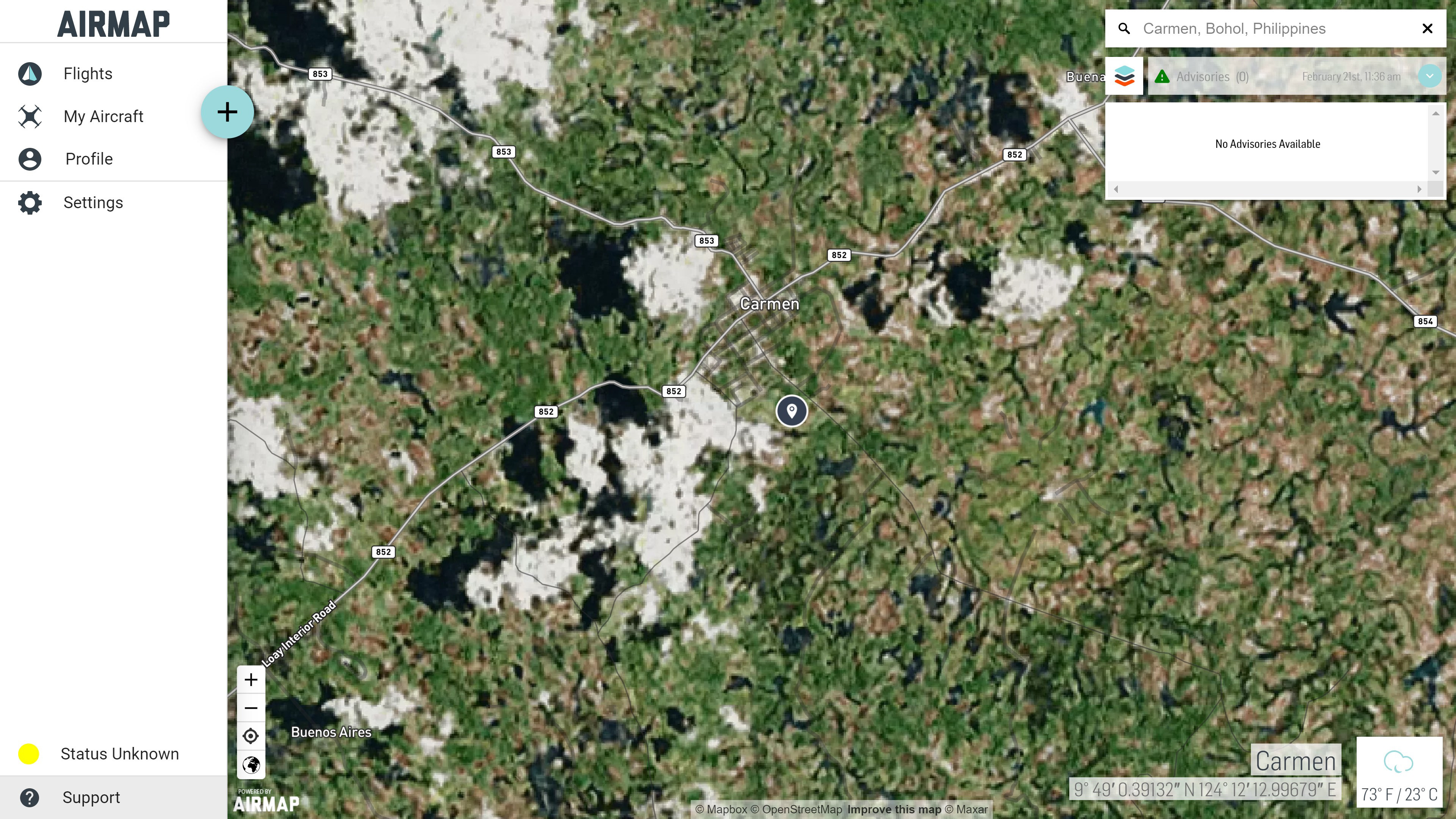 From here you can expand to Google Maps and Google Earth.
It's kind of incredible how much data Google has amassed and made available for the public to use. In Google Maps the main thing we'll use for location scouting is the satellite view. You can access this option on the Google Maps application on your smartphone but it's much easier in my opinion to use on your desktop browser.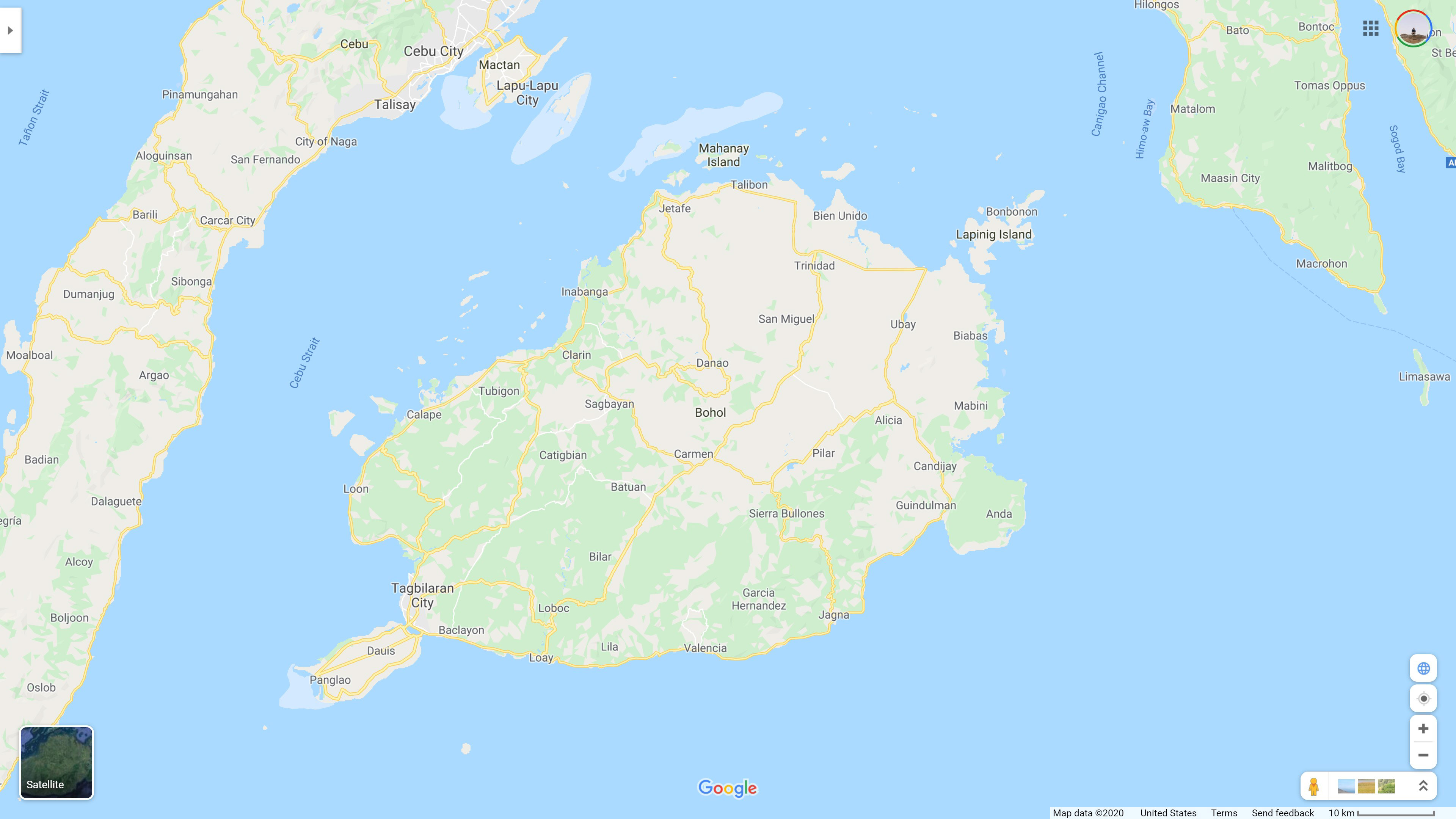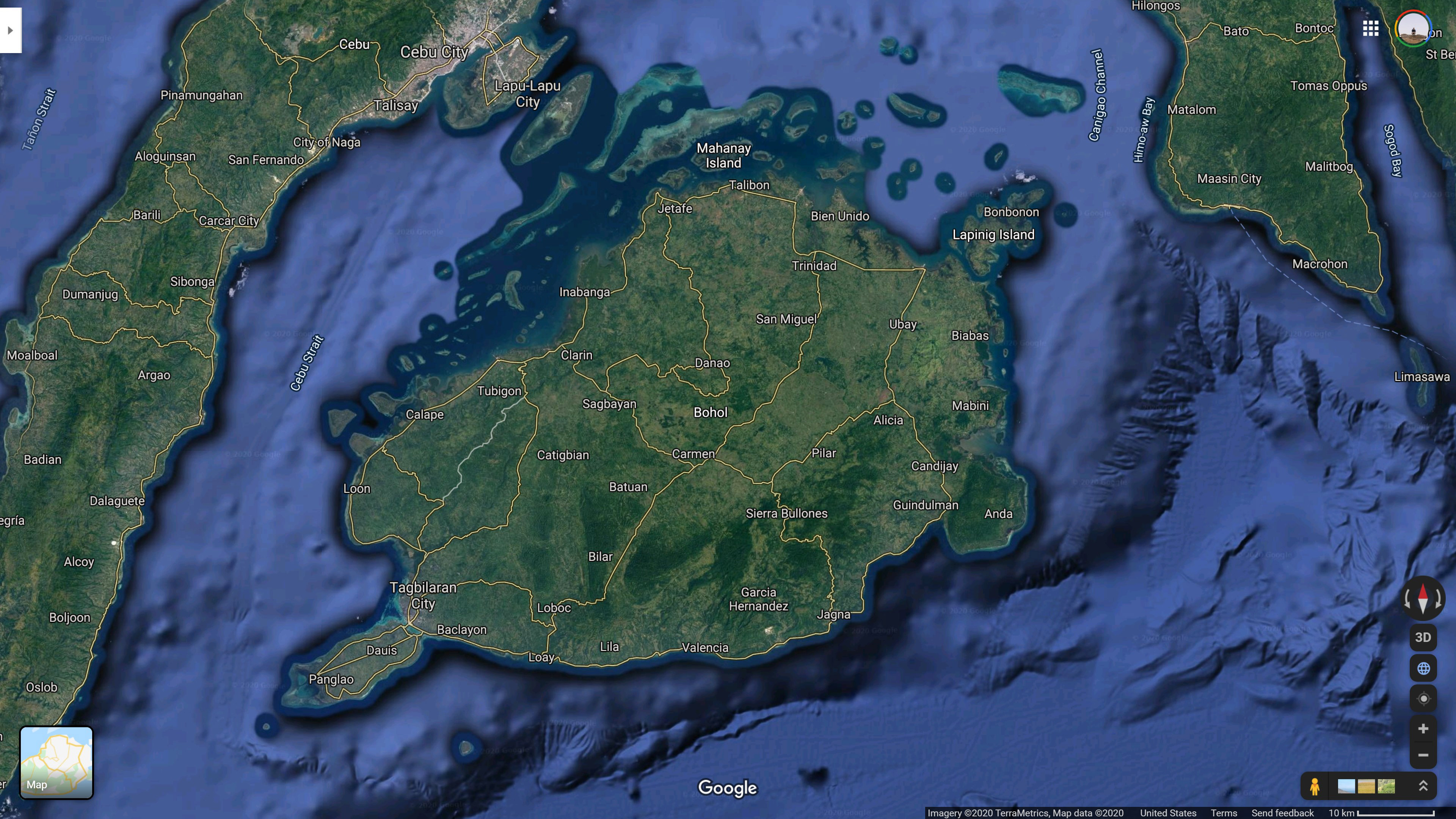 For the Chocolate Hills I discovered that the main area from which people can view the Chocolate Hills is the Chocolate Hills Complex - where we ended up launching from as well.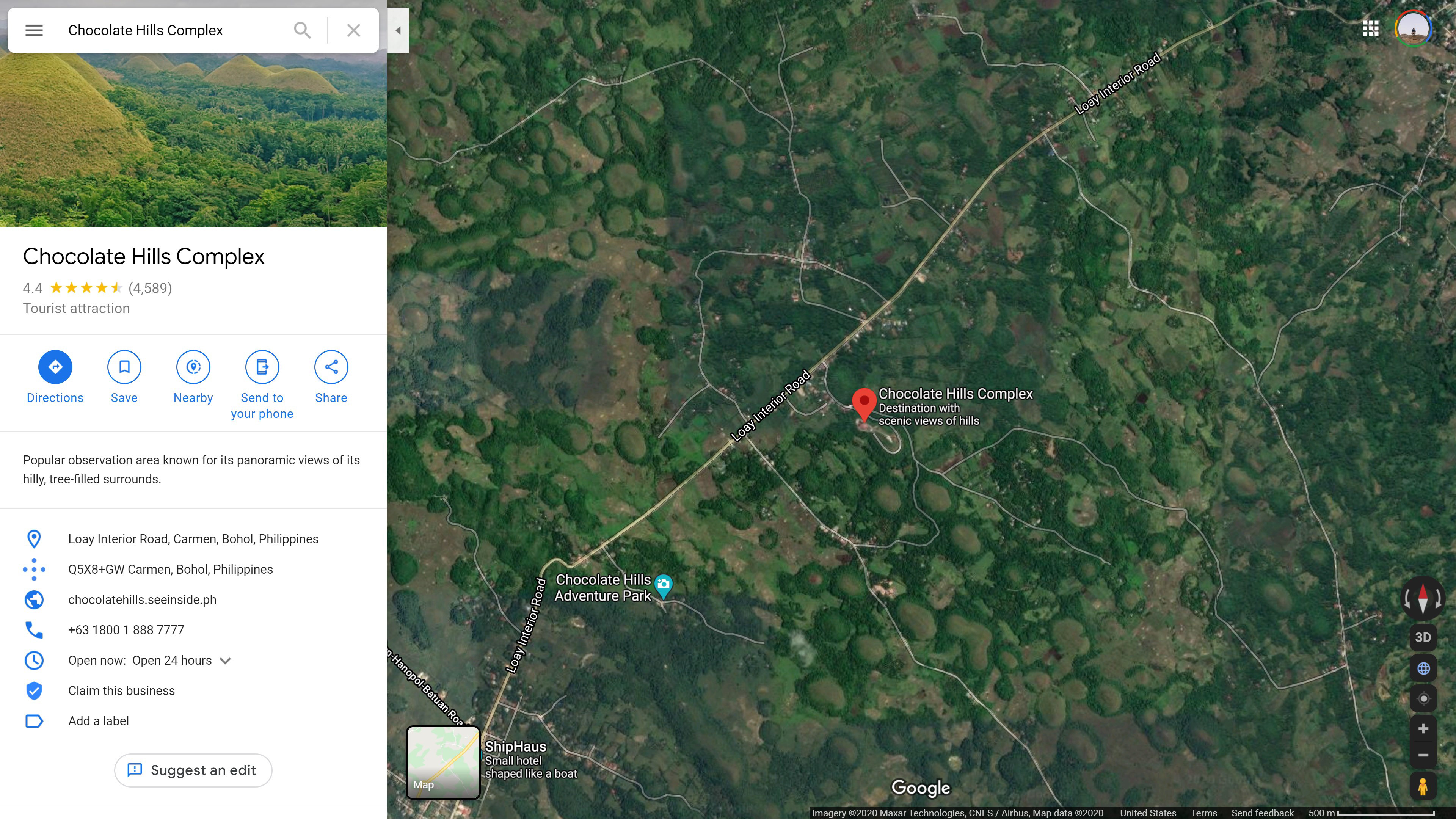 With Google Earth having as much data as it does it's quite surprising how much you can inspect the location from where you like at any point to get an idea of all the perspectives you can shoot.
At the Chocolate Hills I particularly liked the L shaped hill on the screenshot to the left.
It's amazing how much of an idea for perspectives you can get for shooting this way.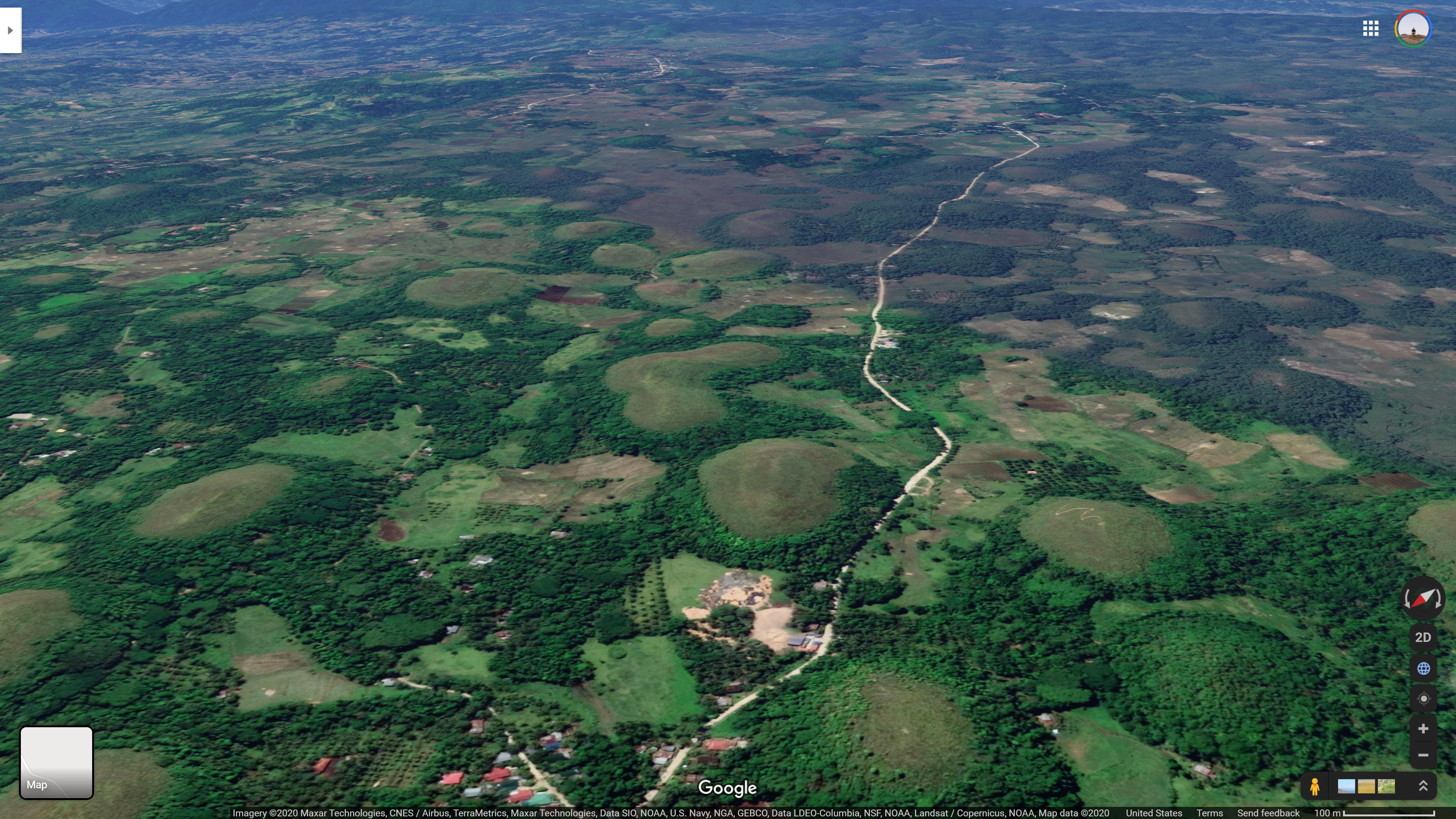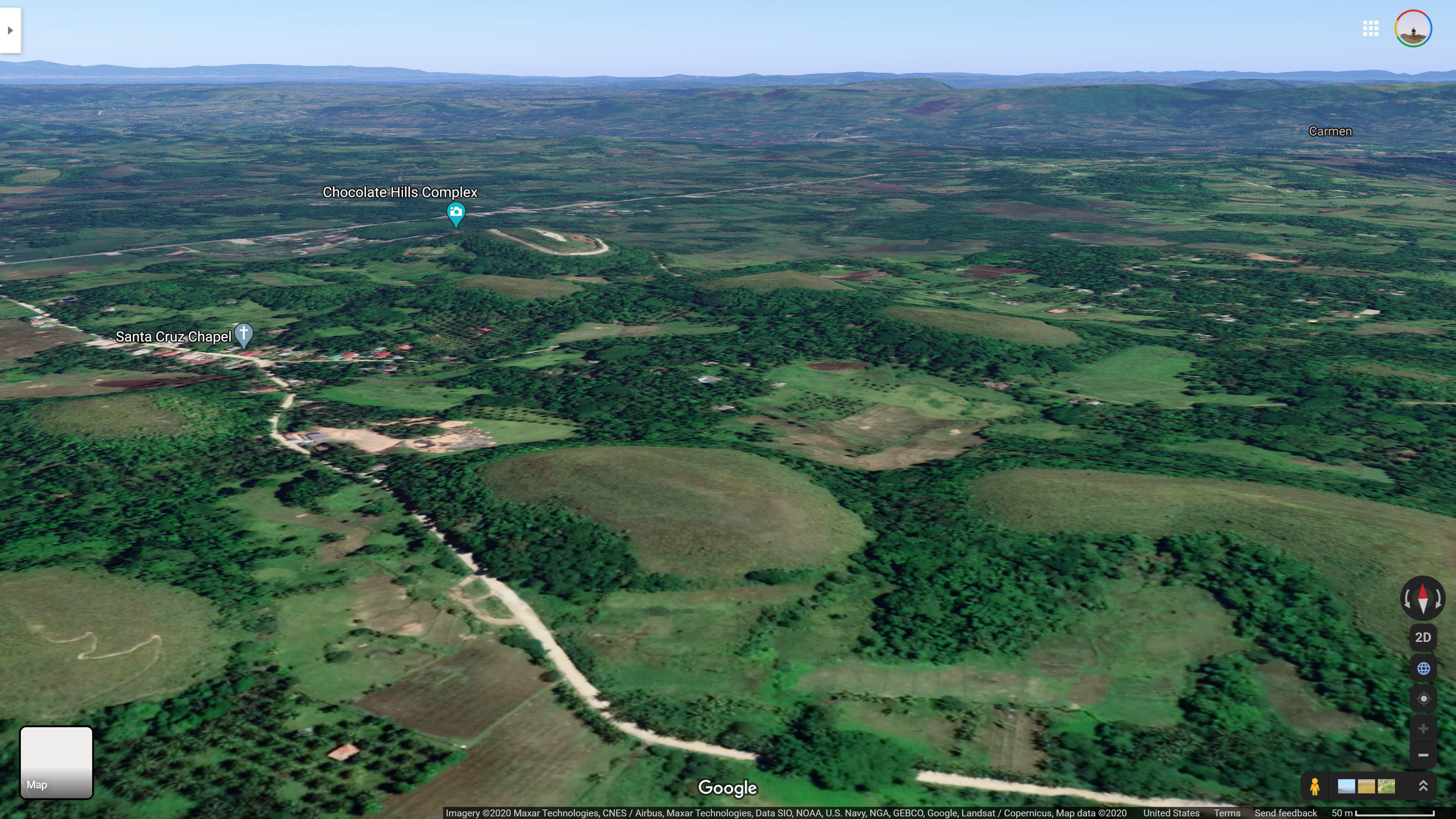 Find out where the sun rises and sets.
I use the Photographer's Ephemeris to calculate the time and direction in which the sun rises and sets. 
This is an incredibly powerful tool that's free in the desktop web app format.
They also have an iOS and Android app which are paid but if you plan this far in advance you don't really need to check your phone the day of the shoot for it. 
Despite this I still recommend paying for the app as paying developers keeps the development of applications that are great going.
I also have heard Photo Pills works for a lot of people but personally I don't need that much data other than knowing the sun's angle, timing and path.
In the Photographer's Ephemeris Web App all you need to do is input where you want to shoot and the date you intend to shoot. It will then spit out sunrise/sunset times, the angle at which the sun will be, and also moon phases.

Pretty useful so you know what time to get up and also how the sun will behave for your shots.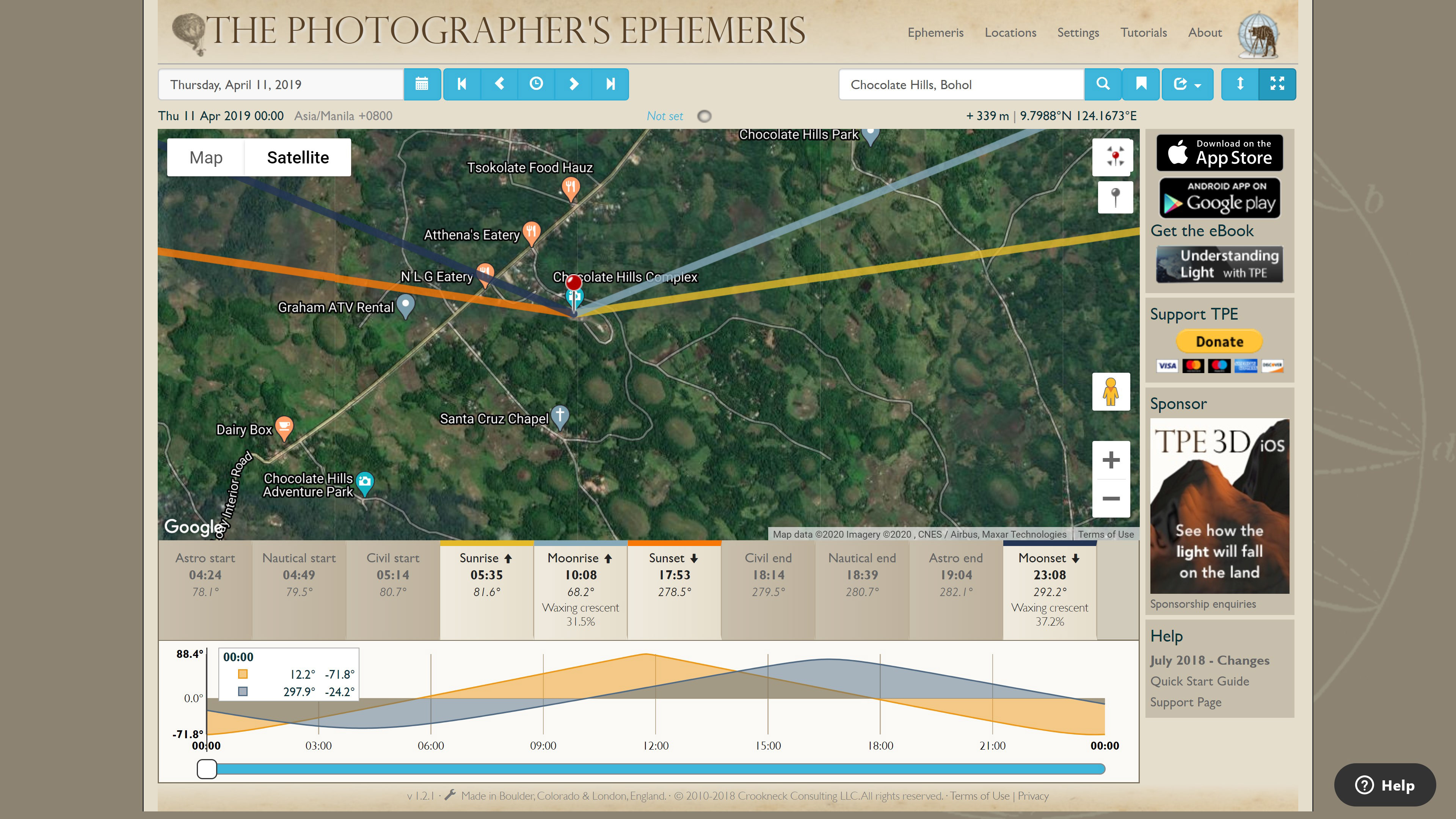 Next is incredibly important.
Weather especially lately with regard to climate change is incredibly fickle. It helps to try and stay on top of it by watching the forecast about a week in advance of when you plan to shoot. Watching it helps you adapt to changing your day of shooting on in the event the day you've planned for is the worst for flying.

The main issues to look for are wind, cloud coverage, and rain. Wind speeds are a major deterrent  for flying as you don't want your drone to blow away. Cloud depends as it affects the light coming in but if you want a cloudier day for shoot that works too. Rain is obviously a problem as drones are not weather sealed despite what they do and water + electronics aren't a good combo.
Check the forecast for the whole day as weather is dynamic and will change throughout the day. It might be cloudy and raining at sunrise but sunset is calm and clear.

I also like to look at cloud coverage charts. I personally use Clear Outside on my Android device.
As you can see it's very detailed.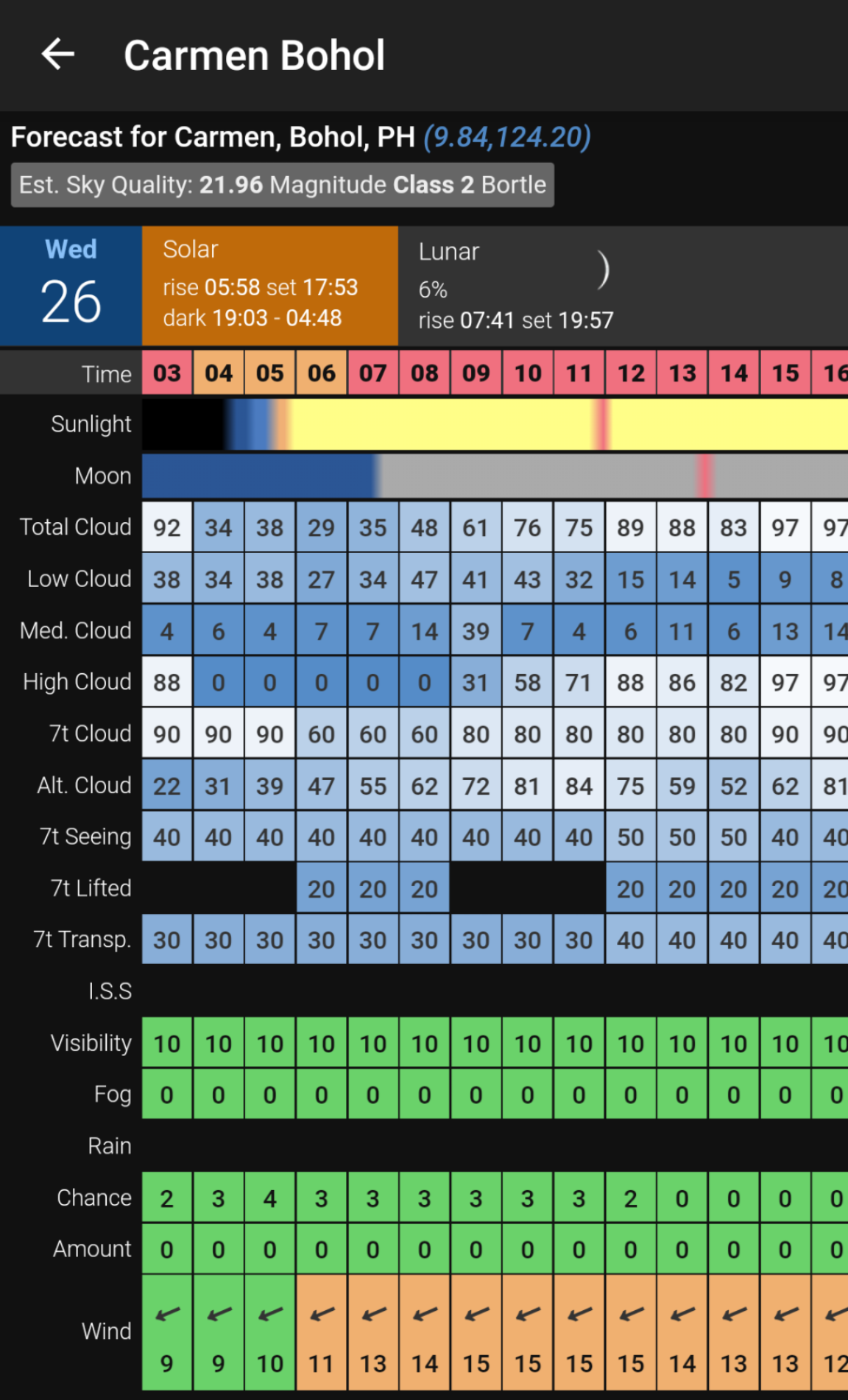 So now you have most everything you need to prepare for the shoot. You have a mental idea of the kind of shots and video you want to take and you can ensure that you have the best conditions to shoot in. 
Here's a shot of the Chocolate Hills in Bohol that I took using this preparation method.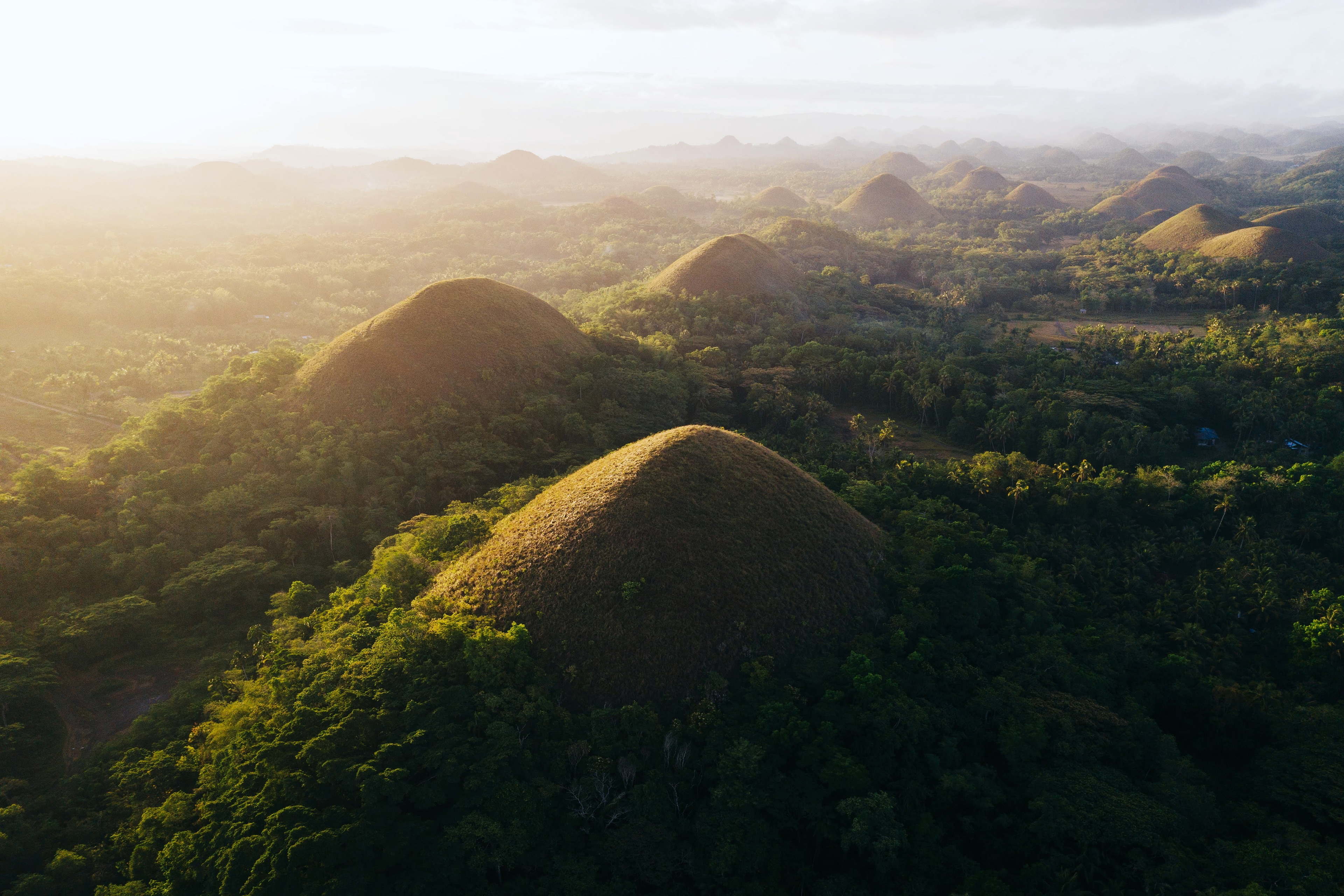 Enjoy your flight.
If you have any questions about this or anything click on the button below to contact me!